Are Covid Vaccines Really Working?
Check out these interesting Covid statistics today, Oct 12, 2021, for Singapore.
82% are fully vaccinated.
The number of Covid cases in the first wave in 2020 had only peaked at about 1,000 per day. Now we're looking at over 2,200 cases daily:
At the same time while there were almost no deaths in the first Coronavirus wave in 2020, when there was no vaccine, this month (Oct 2021) there is a very sharp increase in deaths as well, now at 7 per day: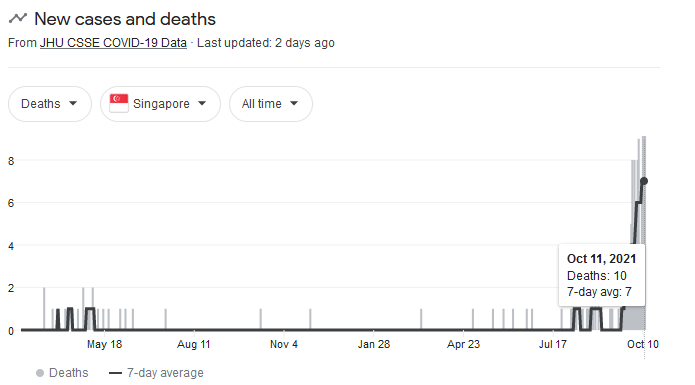 While the first wave may had led to the death of about a dozen people, we are now looking at about 10 deaths daily.
What Does all this Mean?
I'm sure the media will entertain many experts, giving all sorts of explanations. My take is the Coronavirus may have begun to mutate and that the vaccines are not effective. 10 deaths of 2,000 cases is close to the the world-wide average mortality rate observed in other places of the world in unvaccinated persons.
I suspect that there is a chance the vaccine may interfere with the body's natural defenses and that vaccinated individuals may be at a disadvantage. Another theory is that the "wave" we're seeing now is perhaps a wave of vaccine-induced deaths, counted as Covid deaths.
I find it hard to believe that Singaporeans had no problem dealing with the Coronavirus in 2020 and now a mutation of the Coronavirus by itself is so bad that it causes exponentially increasing number of cases. It's possible, it's an interesting theory that would conveniently serve the vaccine industry and proponents, but I don't quite see any convincing data to support it.
It's very alarming to see the deaths rising exponentially. When it comes to statistics I always try to remember that numbers tend to hide more than they show. It could simply be that the way coronavirus is measured/counted has changed and that now coronavirus-related deaths are suddenly counted differently than before, perhaps due to a protocol change. It's also possible that the number of deaths increased due to new types of treatments being introduced.
The majority (63%) was vaccinated
Of the 11 deaths, "Five were men and six were women, all Singaporeans. Four were vaccinated, three were partially vaccinated and the remaining four unvaccinated."
"All, except one, had underlying medical conditions," the ministry said in its daily update, without giving further details.
https://www.msn.com/en-my/news/world/11-covid-19-deaths-in-singapore-as-daily-cases-soar-to-3-703/